Beauty surrounds us, but usually we need to be walking in a garden to know it.
Rumi
Bridgewater is nestled in the hills just to the south of New Milford and is one of the smallest and least developed communities in Litchfield County. It boasts a charming small town green with important historic architecture. The Burnham Library, featured below, was built is 1925 and has been supported in the past by such literary luminaries as Pearl Buck and Archibald MacLeish.
The Bridgewater Village Store is famous for its Bridgewater Chocolates, homemade breads and pastries, gourmet food items, soups and salads, specialty sandwiches, and gifts. True to its Yankee roots, it is also well known for being the last remaining dry town in Connecticut. Farm stands abound in the area and add to the buccolic beauty of the countryside.
There are special properties in this quintessential New England town that will appeal to thouse who love the outdoors. They are true delights with beautiful landscapes and gardens.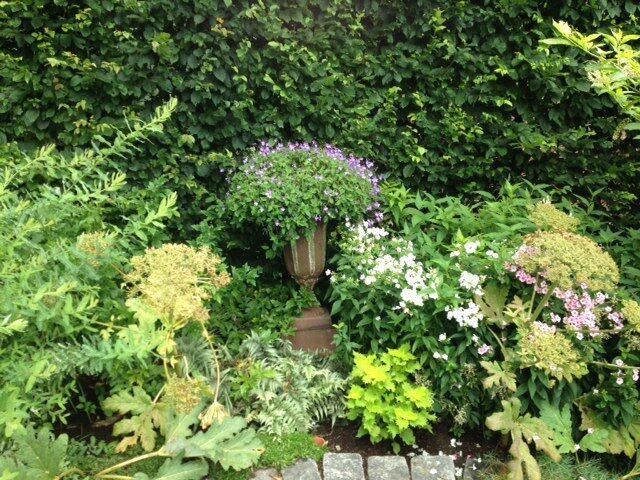 A house on Curtis Road with a lovely, lush garden corner with a large urn and a variety of greenery.
The Vegetable Garden
A border by a brick wall.
A close up in an enclosed garden spot.
This exquisite 1940's colonial has four renovated bedrooms and a 1990 addition that has a newly built guest house/barn/studio. There is a glamorous sun room with heated bluestone floors and floor to ceiling windows. It is a spectacular property with a brick walled garden and elaborate perennial plantings, some of which are featured above. For more information, please click here.
This is another property in Bridgewater that has a stunning outdoor setting. The ivy covered brick federal home makes for the perfect country destination with an ideal combination of antique country charm and recent renovations. There is a gorgeous brook, stone walls, english boxwood garden, mature trees and a heated gunite pool. A further bonus is that the property abuts the Bridgewater land trust.
The pool is in a beautifully landscaped area.
The sweeping drive is private with a peek at the stylish, chic landscaping.
Here is another beatuiful house on Sanford Road in Bridgewater with a wide vista from the lawn.
A charming archway and plantings.
This renovated antique has all original details: wide board floors, large hearth fireplaces and exposed beams. There is a gourmet open kitchen with a butler's pantry and a new gunite pool. Located on a quiet country road and just 1 hr from New York City.
We hope you enjoyed this glimpse into the buccolic, beautiful town of Bridgewater.